Shopify Dropshipping: A Beginner's Guide in 2022
Dropshipping is an efficient and popular way to run an ecommerce business. One of the things that makes this business model so appealing is that you don't have to own or store any inventory. Plus, if you use Shopify to create and manage your online store, you can even streamline other aspects of your business. This beginner Shopify dropshipping guide will help you learn why Shopify is the best platform for dropshipping and how you can launch your own Shopify dropshipping store. We've also included a section on how to purchase an established Shopify dropshipping store for those who are on a time crunch but still want to own a business. Without further ado, let's get started!
Why Choose Shopify?
Shopify is the leading ecommerce platform with over one million monthly active users. It comes with a range of features that enable you to create a beautiful online storefront. Features to manage your payments, sales, and marketing are also present within the software. Also, there are Shopify apps for product sourcing, email marketing, SEO, and other purposes. Setting up a Shopify dropshipping store, is a simple process – you'll build your own store even if you don't have the first-hand experience of the platform. Plus, the fact that Shopify offers 24/7 customer support makes it perfect for self-starters who want to avoid slip-ups while launching their dropshipping business.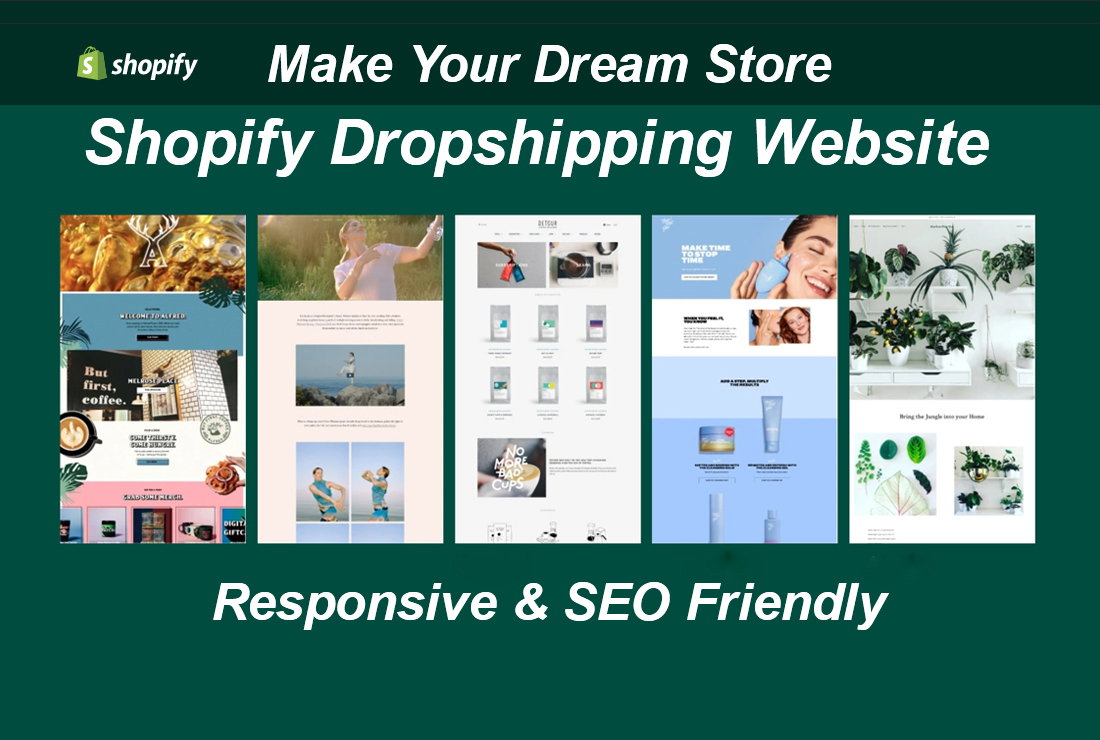 How Does Shopify Work?
Now that you have some idea of the capabilities, it's time to learn how Shopify works. Essentially, Shopify serves as the foundation for your dropshipping business. It's an ecommerce solution that provides you with a basic digital canvas to create and design your store, and Shopify also throws in secure, reliable hosting for your website. You'll need to sign up for one of Shopify's fairly priced subscriptions, and then your dropshipping store will run without any hitches. The platform has all the tools you need to launch your business venture, including integration with Shopify dropshipping apps like Oberlo to simplify product sourcing.
What Should I Consider Dropshipping on Shopify?
Dropshipping is the perfect business model for entrepreneurs looking to break into ecommerce, and Shopify is the best tool out there to build and run your store. Owners of Shopify dropshipping stores typically require little upfront capital, as they don't need to keep an inventory of the items they sell to their customers. Unlike a conventional ecommerce operation, this setup involves either manufacturing or buying products in bulk from a wholesaler. With dropshipping apps like Oberlo powering your business, you'll only ever order the necessary quantity of items to meet customer demand while your suppliers take care of inventory storage and fulfillment – just another reason to start dropshipping on Shopify.
How to Start Dropshipping on Shopify
In this section of our Shopify dropshipping guide, we'll share all the steps you need to follow to set up your own dropshipping store. We'll also discuss the best practices for each stage you go through, so you'll have a fully equipped online store that's ready to make you money. Here's how you can create a dropshipping store using this ecommerce platform.
Shopify Dropshipping In 6 Steps
1. Choose a Store Name
Before anything else, put some time and thought into naming your dropshipping store. This is important because the right store name will make your business instantly recognizable and leave a lasting impression on consumers. Here are some tips for choosing a great business name for your ecommerce store:
Keep it simple.
Convey your identity.
Make it future proof. (i.e., choose a name that you can grow into.)
Shopify goes a step further to make it easy for entrepreneurs to come up with a store name. Using Shopify's free business name generator, you can produce hundreds of brand name ideas for your dropshipping store. All you have to do is enter a word that you would like your store name to include, then click "Generate Names." The best thing about this tool is that it only shows business names with available domains, so you'll have peace of mind knowing that your brand's .com domain isn't taken by someone else.
When choosing a name for your dropshipping store, we recommend trying to be unique in your approach. Now, we're not suggesting that you need to get super creative with your store name – just that it can pay to be a little different. For example, if you're researching store names for a women's clothing business, try to avoid generic names like "Women's Clothing Store." Instead, you could use names that evoke more emotion, like "Babe Boutique" or "Très Chic Clothing."
2. Create a Shopify Account
The next step is to register an account with Shopify. To do so, head over to Shopify's homepage and click "Join Shopify." You'll then see a page where you'll need to enter your email address. Additionally, Shopify will ask you to create a password for your account and enter the name you've picked for your Shopify dropshipping business.
Once done, click "Create your store" to move onto the final stage of the account creation process. Shopify will now ask you to answer a few questions, along with providing some personal details. After you've done this, you'll have access to your new Shopify account. Next, you'll configure your Shopify's account settings to launch your Shopify dropshipping store.
3. Configure Your Store's Settings
You'll need to tweak a few settings before you can launch your Shopify dropshipping store. This step is crucial because it's where you create your store's policies and establish your shipping rates.
Store policies
Most Shopify dropshipping stores have a standard set of policies that help them comply with all applicable laws. You can use Shopify's policy generators to create these policies for your business. To access these tools, open your Shopify account's Settings, click "Checkout," and scroll down to find the required policies' fields and generators. You can use this method to create a privacy policy, refund policy, and terms and conditions for your store.
Shipping rates
It's also critical to list your shipping rates before launching your dropshipping business. We'd recommend that you offer free shipping to stay competitive within your niche. Even when you want to charge a certain shipping fee, you can afford to offer free shipping – incorporate the costs into your items' price and make shipping free. For instance, if you're planning to sell a necklace for $50 and it costs you $2 to dropship a unit, you can raise the price to $52 and offer free shipping. Trust us when we say this is going to be one of your best marketing moves when running a Shopify dropshipping business. You can add free shipping through the "Shipping tab" in your Shopify store's settings.
4. Launch Your Dropshipping Store
You've optimized all the essential settings, so you can now proceed with the launch. Access the "Sales Channels" tab from your Shopify dashboard and choose the "add an online store" option to launch your Shopify dropshipping store. Once you've taken this step, you'll have a fully functional online store that is accessible to a global audience. Next, we'll go over the importance of aesthetics for your dropshipping store, and we'll share some key points for you to consider. Let's not forget that the design of an ecommerce store is a visitor's first impression of the business, and first impressions matter.
5. Make Your Store Aesthetically Pleasing
When it comes to aesthetics, the two key things you'll need to focus on as you're designing your Shopify dropshipping store are your logo and theme.
Creating a logo
As the store name, your Shopify dropshipping business logo will help people relate to your brand. So, when brainstorming ideas for your logo, think about the critical attributes of your business. How do you want these traits represented in your logo? It might help to sketch out a few versions of your logo to see which design best fits your brand image. If you're interested in making your logo, you can use Shopify's free logo maker Hatchful to generate a suitable logo in under a few minutes. This tool lets you experiment with colors, icons, fonts, and positioning to help you design a perfect store logo.
Selecting a Theme
Shopify has a Theme Store where you can find various paid and free themes that you can use on your dropshipping store. Before picking a theme, here are some questions you'll want to ask yourself:
How do I want my products to appear? (In a slideshow? As static images?)
Is my logo suitable for the theme? (Or is it the wrong shape, too colorful, or not fit for the layout?)
Do I have a large amount of content? (If yes, then you'll need a theme with enough free space)
You can also get inspiration from other Shopify dropshipping stores using a specific theme to see the different possibilities within that theme.
It's also worth mentioning that there's nothing wrong with using the default theme for your Shopify dropshipping business. It's incredibly easy to customize and a simple way of understanding the different styling options and theme features. Maybe it's best if you play around with it as a testing session before experimenting with any other themes.
6. Shopify Dropshipping With Oberlo
Now it's time to start adding products so that your Shopify dropshipping store can begin generating revenue. To find products that you can dropship, install the Oberlo app – it's one of the best tools for entrepreneurs who want to find Shopify dropshipping products for their store. Shopify and Oberlo connect seamlessly, so you'll start importing and selling products in no time. With Oberlo installed, you'll add a category for the type of products you'll be selling. For example, if you're planning to launch a beauty website, you can add a category and name it "beauty." You can also import any of the products you'll like to sell by clicking the import button. Taking this step will populate your online store with items that are eligible for dropshipping.
Once you've followed these steps, you'll be the owner of your own Shopify dropshipping store. That said, you'll still need to do a few things to unlock the true potential of your business, including identifying a niche market and positioning your ecommerce brand. All of this can be pretty daunting to learn if you've never run an online store, so we recommend that you take a Shopify dropshipping course on Compass to shorten the learning curve.
How to Buy a Shopify Dropshipping Store
Sure, it's nice to know how to build your own Shopify dropshipping store, but let's not forget that not everyone has the time or inclination to do everything from scratch. We've also seen entrepreneurs skip the idea of creating their own store due to concerns about ROI. The good news is that you can kickstart your journey as an ecommerce entrepreneur by bypassing the store creation process. The Exchange Marketplace, or simply Exchange, has plenty of Shopify dropshipping stores that you can purchase for as little as $50.
What makes Exchange so great? Well, the platform has a catalog of hundreds of dropshipping businesses across a vast range of niches. You'll find dropshipping stores for pet supplies, camping gear, athletic apparel, neon signs, and more when you browse through businesses for sale. What's more, every dropshipping store on Exchange features reliable insights that you can use to check the business' profit and loss.
There's one thing to note, though: if you purchase a Shopify dropshipping store via Exchange, you're unlikely to inherit any inventory during the business handover process. This isn't unusual though. Dropshipping store owners likely don't carry inventory – their suppliers manage their products' storage and logistics instead. Thus, you'll be purchasing an automated business. However, you'll still receive the domain name, branding assets, mailing lists, the content on the store, social media accounts, and of course supplier access whenever you acquire a Shopify dropshipping store.
Overall, Exchange is a great resource for identifying profitable businesses that allow you to leapfrog the main stages of building a store and get a quicker return on your investment. Whether you're looking to buy a starter business, an established store, or you're looking to try your hand with a Shopify dropshipping store, Exchange has you covered.
Conclusion
We're lucky to be living in a time when it's easier than ever to build or acquire a Shopify dropshipping store. Shopify makes dropshipping a breeze, and it also has plenty of other features to help grow your ecommerce business. Plus, dropshipping itself enables you to optimize inventory control and product import processes through apps that notify you when inventory levels change so that you can import products accordingly. With Shopify dropshipping, you're free to gear your valuable resources and time towards marketing your online store and making more sales. So take that first step, create or buy a dropshipping business, and get your hands dirty.